Morgan Uceny Advances to Final in 1500 Meters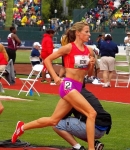 August 08, 2012
By David Woods, Indystar
LONDON -- Morgan Uceny, who once resisted becoming a Miler because she didn't want to race that far, has become one of the world's best at one of track and field's glamour distances.
Uceny, a 27-year-old from Plymouth, Ind., qualified for the 1500 meter final at the Olympic Games.
The former state champion finished third in her semifinal Wednesday night in 4 minutes, 5.34 seconds. That sent her into Friday's race with a chance to become the first American woman ever to win an Olympic medal in the 1500.
Continue reading at: indystar.com