Rocky Mountain runner Michael Slagowski flashing record speed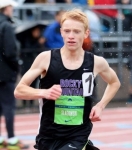 May 07, 2016
"I was definitely really tired, but there was also a lot of adrenaline because there were tons of people on the infield yelling and in the stands."
By Rachel Roberts, Bonner County Daily Bee
When Michael Slagowski returned to school Monday after winning the Mile in record time at a Nike meet in Portland last week, he received a hero's welcome.
Students and teachers lined the hallways at Rocky Mountain High and had Slagowski run from end to end as they cheered him on.
"I was a little bit embarrassed, I would say, but it was cool," Slagowski said. "They've definitely done a lot of things to recognize me."
Slagowski's time of 3 minutes, 59.53 seconds at the Nike Jesuit Twilight Relays last Friday wasn't simply a school record or state best, it was an accomplishment rarely seen even on the national level.
Slagowski is the ninth high school runner in United States history to complete the Mile in under 4 minutes and third in a high school-only competition, and his time also is the seventh fastest in prep history.
Continue reading at: www.bonnercountydailybee.com