Running Legends Primer for the Younger Generation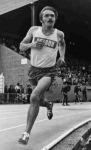 October 23, 2016
Rodgers, Ryun, Decker Slaney, Lindgren & Prefontaine
By Rodney Harwood, Columbia Basin Herald
I realize the "Running Boom" done boomed, and I'll be the first to tell you I can't name a single American distance runner in the past 20 years. Well, except for Galen Rupp, who became the first U.S. man to take the Olympic 10,000 meter podium since 1964 after winning the silver medal at the London Games in 2012.
But over the course of the high school cross country season I tend to bring up ancient history to the strapping lads and young ladies going the distance here in the Columbia Basin.
"Ever heard of Bill Rodgers?" "What about Alberto Salazar? No, huh? How about Jim Ryun? Mary Decker or Francie Larrieu Smith?
"OK, OK, I know you know this one, Steve Prefontaine? How can you not have of heard of Pre?"
I realize all those runners competed in the Year BT (before Twitter). You'd think I was asking them, "Who played bass for the Grateful Dead?" Who? Not the Who, the Dead.
Continue reading at: www.columbiabasinherald.com