Steps to Beijing Episode 2 ft. IAAF World Championship bound Jenny Simpson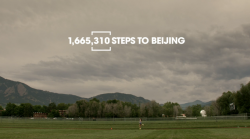 August 17, 2015
"We have to design her training more efficiently to get another half second. Because that's the difference between getting the American Record and not."
From Competitor
New Balance has put together a four-part "Steps to Beijing" documentary on Jenny Simpson as she prepares for the 2015 IAAF World Championships later this month in Beijing, China. The second episode takes a look at her typical day of training, which involves two different running sessions, strength training, rest and more.
The film was produced by NAIL out of Providence, R.I., and directed by Emmy Award winning Tiny Elephant, which was founded by Jeffrey DeChausse.
Continue reading at: competitor.com
Watch Episode 1: Jenny Simpson's Return to the World Championships Documented in New Series