Team USA Minnesota's Kampf, Peyton, Rombough to Compete at USA 1 Mile Road Championships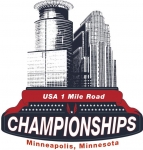 May 14, 2012
Top U.S. Milers expected at Medtronic TC 1 Mile on Thursday, May 17
MINNEAPOLIS – (May 14, 2012) – Three Team USA Minnesota athletes – Heather Kampf, Meghan Peyton and Chris Rombough – will compete at the USA 1 Mile Road Championships on Thursday evening, May 17. The national championships are being hosted by the Medtronic TC 1 Mile to be held in downtown Minneapolis on Nicollet Mall.
The TC 1 Mile, designated as the USA 1 Mile Road Championships for the last three years, features an evening of races for runners of all ages and abilities with the first race starting at 6:50pm. More than 3,000 runners are expected to participate in the eighth edition. The USA Championships will be held at 7:53pm for women and at 8:03pm for men.
Kampf finished national runner-up at last year's 1 Mile Championships and sixth in 2010. Most recently she was second at the Grand Blue Mile in Des Moines on April 24. She has a best in the mile of 4:30.95 which she set at the Fifth Avenue Mile in New York.
Peyton was seventh at the 2011 USA 1 Mile Championships and 10th in 2010. She has a best in the distance of 4:40.5. In the men's field, Rombough was seventh last year in 4:04.4 and since that time has run a personal best in the distance of 4:02.11 on the track.
Both Kampf and Rombough competed collegiately at the University of Minnesota and Peyton (formerly Armstrong) was at the University of Iowa.
About Team USA Minnesota
Team USA Minnesota is based in the Twin Cities of Minneapolis/St. Paul. Formed in 2001, the purpose of the training center is to improve the competitiveness of post-collegiate American distance running and to develop Olympians. The athletes are coached by Dennis Barker, head cross country and track coach at Augsburg College in Minneapolis. Team USA Minnesota's major sponsor is Life Time Run (www.lifetimerun.com) and its silver sponsor is Twin Cities In Motion (www.tcmevents.org). It is also supported by the New York Road Runners and the USA Distance Project, and in 2010, the training group won the inaugural Allan Steinfeld Development Award from Running USA.
For more information, visit: www.teamusaminnesota.org