The Resurrection of Sebastian Coe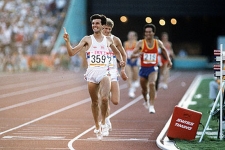 September 05, 2014
The 1984 Olympics was the first Olympics that I attended. Watching Seb Coe win his silver medal in the 800 meters was inspiring. When Seb won the 1,500 meters in LA, he made Olympic history. Now, thirty years later, Jeff Benjamin, long time contributor to RunBlogRun, American Track & Field and American Athletics releases "30 Years Ago - The Los Angeles Olympics"
By RunBlogRun.com
1983 was not a kind year for Britain's Sebastian Coe. Considered the world's greatest middle distance runner for over 4 years, The 1980 Olympic Silver medalist at 800 meters and Gold medalist at 1500 meters was having a very inconsistent year. Along with his poor performances, the 800 meter world record-holder (1:41.73) and Mile world record holder (3:47.33) was experiencing chronic fatigue, glandular fever, and muscle aches, unlike anything he ever experienced before. Even his father and lifelong coach, Peter Coe, whose revolutionary training methods had driven his son to the top of the sport, couldn't comprehend what was happening either.
As Coe said in the film "Born to Run, "The Olympics (in Los Angeles) in '84 seemed as far away as anything I ever saw."

By the end of 1983, Coe had been found to have toxoplasmosis, a debilitating condition which left him in an almost sedentary state, with medications whose side effects included vomiting. Hospitalized, losing weight and still feeling very fatigued, one thing was able to come out of this time which would become a great positive enforcer for him.
Accompanying his father to the United States, where he was invited to give a series of lectures, Coe got to know a person who would become a key cornerstone in his comeback to the top--York High School Coach Joe Newton.
Continue reading at: www.RunBlogRun.com