Top Miler Brenda Martinez Wants More Consistency in 2013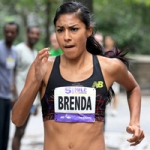 December 26, 2012
She won some big races in 2012, but also performed poorly at the Olympic Trials.
By Peter Gambaccini, Runner's World
For Brenda Martinez, 2012's highlights included a 4:26.76 victory at the Falmouth Mile (world's fastest female Miler in 2012 on the track); a win at the U.S. Open Mile at Madison Square Garden; two sub-2:00 times in the 800, including a 1:59.14; a second in the 1500 at the USATF Indoor Championships, qualifying her for the IAAF World Championships; a win in the Mile at Newcastle, England's Great City Games; and a decisive season-ending victory at the Fifth Avenue Mile in New York in 4:24.2. But Martinez was just seventh in her 1500 semi at those world indoor championships, and sixth in the 800 and 12th in the 1500 final at the U.S. Olympic Trials. Martinez, who is coached by Joe Vigil, has a best 1500 of 4:06.96. At UC Riverside, she was the 2009 NCAA Championships runner-up in the 1500. She resides in Big Bear, California, where she was running in the snow last week.
Continue reading at: runnersworld.com