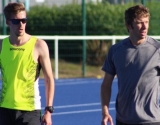 July 07, 2019
With all its rich history, the Mile can massively benefit runners of all distances including the marathon.
By James Thie, fastrunning.com
Sir Roger Bannister, 65 years ago, became the first runner to clock a Mile inside the magic 4 minute barrier. Over the past month the running forums buzzed...
Read More
comments