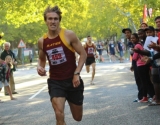 March 07, 2015
"The Dagbreek / Maties Street Mile is a highlight of the South African season for me. I won't miss it for anything, and hopefully I will be able to run a sub-4 minute Mile there."
From Stellenbosch University
These are the words of the current South African record holder in the Mile, Johan...
Read More
comments