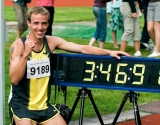 July 21, 2007
A nervous excitement spread through the spectators and it immediately felt as if we were doing this together, willing Alan around the track.
By JT Service, Running Times
Every sports fan has their IT moment. The day "IT" happened. Your grandfather remembers "IT" and your dad remembers "THAT",...
Read More
comments