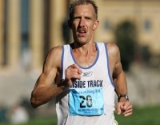 August 21, 2013
The 51-year-old broke the barrier for the 38th straight year.
By Mario Fraioli, Competitor
Barriers are meant to be broken, sometimes over and over (and over) again.
Steve Spence, a 1992 U.S. Olympian best known for winning the bronze medal in the marathon at the 1991 World Championships in...
Read More
comments