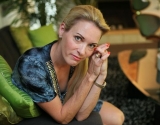 July 21, 2012
As she took center stage no one knew what was going on inside her.
By Gary D'Amato, Journal Sentinel
The finish line was 200 meters away. She just had to hold on for 30 more seconds and the gold medal would be hers.
Suzy Favor Hamilton had trained her entire life for this moment. She'd...
Read More
comments