2011 World Champ Jenny Simpson Back on Track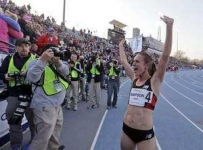 June 18, 2013
After disappointing Olympic year, a successful return to her college coaches in Boulder
By Peter Gambaccini, Runner's World
Jenny Simpson won the 1500 meter race at the Drake Relays in Des Moines on April 26 in 4:03.35, and her 4:02.30 for third place in Rome on June 6 is the fastest American women's 1500 time in 2013. She is also the 2011 world champion for the 1500, which means she gets an automatic bye to the world championships in Moscow in August.
Simpson attended the University of Colorado and, at 26, is back in Boulder working with her college coaches Mark Wetmore and Heather Burroughs after a stint training under Juli Henner in Colorado Springs. Simpson has run 3:59.90 for 1500 meters, 15:01.70 (indoors) for 5000, and an American record 9:12.50 for the 3000m steeplechase. She was ninth in the steeple at the 2008 Olympics and a semi-finalist in the 1500 in London in 2012.
You began the year knowing that, no matter what happens, you're going to Moscow. But for right now, we should establish what event you're doing at the USATF Championships.
Jenny Simpson: I haven't made a huge big deal of it, but my intention is to run the 5K. I've had a lot of experience in the fifteen [1500]. I really feel confident and comfortable with my tactical skills in the fifteen. I guess my choice is twofold. First thing is that in the 5K, there are no rounds. There's a different level of expectation on me because it's not the fifteen, so it's not like I have to go out and necessarily worry about winning it. I'm not ranked in the 5K.
And I'm really looking forward to experiencing the U.S. Championships without having to "make it," without all of that pressure. Mark [Wetmore] and I talked earlier this season, and we discussed, "If you got to do anything you want at the U.S. Championships, what would you want to run?" And I really love the 5K. I only usually get to run one every year.
If Drake had not gone well, if Rome had not gone well, I might say, "Okay, I need the tactical experience of going through the rounds and doing the fifteen again." But Rome was about as tactical a race as you get at the world level and I feel I did really well. I ran hard from the gun at Drake, so I got a good refresh on what that feels like. This is the one year, probably, of my career when it doesn't really matter what I run at USAs. I have every intention of running the 1500 at the world championships [she says "no way" to doubling in the 5000].
Continued reading at: www.runnersworld.com