2012 Olympic Trials People's Contest Winners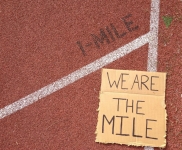 July 05, 2012
Grand Prize winner takes home exclusive Mile Legends package; four other lucky Mile Maniacs receive limited edition 3:59 "I AM THE MILE" T-Shirts
SANTA BARBARA, Calif. - After enjoying a great week at the 2012 U.S. Olympic Track & Field - Team Trials and celebrating a fantastic 1500 meter final in which six of America's best Milers are set to represent our country in London, we are announcing the "People's Contest" (original press release) winners.
To recap the contest, we launched the "People's Contest" in honor of the Olympic Trials with the Grand Prize winner taking home a special Mile Legends package including an exclusive Jim Ryun autographed "I Am the Mile" t-shirt and one-of-a-kind signed items for BBTM by Don Bowden, the first American to break four minutes in the Mile, and Mile great Marty Liquori. In addition, four runner-ups receive a BBTM Lap 3 VIP membership package. To win, one simply needed to have joined the movement through one of four ways:
Current Mile Maniacs: Don't do a thing; you're already registered!

Join a BBTM Lap: No purchase required, simply join the movement for free at the Lap 1 level membership.

Sign the High School State Federation Petition: Choose your state and put your name in the books as one who wants the Mile back.

I Am the Mile Stories: Submit a story, photograph or video on our I Am the Mile page. All submissions will receive an entry.
GRAND PRIZE WINNER
RUNNER-UP WINNERS
Patrick Monahan
Maria Seykora
Trisha Learned
Matt Muth
Visit www.bringbackthemile.com/jointhemovement for more information on membership levels.
The Mile holds a special place in Track & Field and beyond because no running distance, or field event for that matter, has the history, the appeal, the "magic" of the Mile. The first sub-4 minute mile by Great Britain's Roger Bannister in 1954 is regarded as the greatest individual athletic achievement of the 20th century (see Forbes November 18, 2005 article HERE), and no other event has produced an equivalent of the sub-4 minute Mile standard in the sport, in the media and in the public's mind.
Over the past decade, unfortunately, the Mile has lost some of its luster, and the Bring Back the Mile mission is: To return the Mile to prominence on the American sports and cultural landscape by elevating and celebrating the Mile to create a national movement.
Visit www.bringbackthemile.com or contact media@bringbackthemile.com for more information.