5 U.S. Leaders Highlight adidas Girls' Dream Mile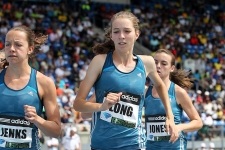 June 13, 2015
#1 800m, 1500m, 1600m, Mile, 3200m Set for adidas Grand Prix
From adidas Grand Prix
Hannah Long, Christina Aragon, Amanda Gehrich, Ryen Frazier and Destiny Collins—who together top the U.S. lists at five different distances—lead the lineup for the adidas Girls' Dream Mile at Saturday's adidas Grand Prix in New York City.
Also featured in what is arguably the deepest field in the six-year history of the race is Anna Rohrer (Mishawaka, IN), the two-time Foot Locker Cross Country Champion and 5000 meter high school National record holder.
The field will join headliners Usain Bolt, David Rudisha, Blanka Vlašić, Jenn Suhr, and Ajeé Wilson at the 11th adidas Grand Prix on Saturday. Backstretch and new standing-room tickets for the event are still available at www.adidasgrandprix.com or by calling 1-877-849-8722.
Long (Eureka, MO) leads the U.S. at 800 meters in 2:04.23 and is ranked #3 at 1600 meters. Aragon (Billings, MT) tops the list at 1500 meters with a time of 4:16.36, good for #5 on the U.S. all-time prep list, and is #3 (4:40.79) for 2015 in the Mile. Gehrich (Tesoro, CA), the adidas Asuza Meet of Champions winner, has run the fastest 1600 meters (4:39.33) in the nation this year. Frazier (Ravenscroft, NC), the 2014 outdoor national champion in the Mile, leads the nation at that distance in 2015 with her Prefontaine Classic win in 4:39.84, and Collins (Great Oaks, CA) is the U.S. #1 at 3200 meters in 4:40.34.
They will be challenged by:
Danielle Jones (Phoenix, AZ), who recorded the #2 U.S. Mile time of the season (4:39.88) in her exciting runner-up finish to Frazier in the Prefontaine Classic high school Mile
Stephanie Jenks (Aurora, IA), the 2014 Dream Mile runner-up and 2015 Kansas Relays Champion who has the #5 1600m time and #6 1500m time this season
Katie Rainsberger (Air Academy, CO), #2 in the U.S. at 1500m (4:23.28), third-place finisher in 2015 USATF Cross Country Junior Women's Championships; mother Lisa was a great U.S. marathoner, the last U.S. woman to win Boston (1985)
Julia Heymach (Houston Lamar, TX), #3 U.S. at 1500m and 2015 Texas Relays 3200m champion
Malia Ellington (Community School of Davidson, NC), adidas Raleigh Relays Champion, Penn Relays Mile Champion
Rachel McArthur (Patriot HS, VA), 2015 Golden South Classic Champion and 2014 state cross country champion
Lucy Biles (Herriman, UT), 11-time state champion
Fields for the 2015 Girls' Dream Mile were chosen from at-large bids as well as the winners of five qualifying meets: adidas Raleigh Relays, adidas Azusa Meet of Champions, Kansas Relays, New York Relays and Golden South Classic.
One of the premier track & field events in the world, the adidas Grand Prix has hosted two World Records and 22 National Records, and its fans have witnessed almost a dozen performances that were the fastest ever recorded on U.S. soil.
The seventh stop on the international IAAF Diamond League circuit, the adidas Grand Prix is in its 11th year at Icahn Stadium on Randall's Island, in conjunction with the Randall's Island Park Alliance. The latest news, photos and information on the event can be found at www.adidasgrandprix.com and here on Facebook and Twitter, @adidasgrandprix, #AGPNYC.
For more information, visit: newyork.diamondleague.com