600 Kids Run The Distance in Lynchburg's Amazing Mile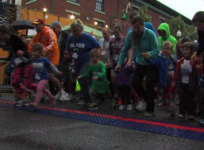 September 27, 2015
"Running is such an empowering thing. To see a little girl set her mind, go for it, achieve that and cross the finish line it's like the happy juice. It's like everybody feels happy,"
By Kody Leibowitz, WSET
Rain didn't put a damper on The Amazing Mile.
Hundreds of kids showed off their athletic abilities running a quarter mile, half mile or one Mile on the paved streets of downtown Lynchburg.
The rain never stopped, but neither did the fun!
"I just like having fun," said Josh Miller.
Miller ran his third Amazing Mile race.
Continue reading at: www.wset.com