A Humble Start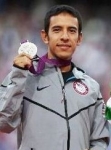 December 12, 2012
By Josh Weaver, Odessa America
KERMIT, Texas - Leo Manzano took hold of his passion at an early age and has since run with it around the globe, leaving footprints across roads, terrains and tracks that were once figments of his imagination.
He said running was his way out. It has been his way up and onward, too.
"The thing is, when you find something, follow it," said Manzano, whose first real journey came at the age of 4 when he and his family moved from Dolores Hidalgo, Guanajuato, Mexico to Marble Falls. "You never know where it will get you."
Manzano's Miles and Miles of strides recently led him to the world's largest stage — the 2012 Olympic Games in London in front of 70,000 delirious track and field fans (not to mention millions watching in various formats across the world) crammed inside of Olympic Stadium.
Continue reading at: oaoa.com