A Record That Wasn't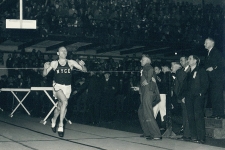 November 01, 2014
Cunningham had run the race of his life and knocked two full seconds off the outdoor Mile world record and four seconds off his own indoor record!
By Peter Webster '71, Dartmouth Alumni Magazine
In the 1930s, when American sports fans desperately needed something to cheer about, Glenn Cunningham provided just that—and more. Arguably the world's best Miler, Cunningham in that decade alone set a world record in the outdoor Mile, won Olympic silver in Berlin and captured six titles in the prestigious Wanamaker Mile at the annual Millrose Games in New York City. He was widely recognized as the nation's top amateur athlete.
When Cunningham made his way to Dartmouth for an unforgettable, record-setting run in Alumni Gym, my father, Bill Webster '39, was there. His Alpha Delta roommate Bert MacMannis '39 was also present. In fact, MacMannis played an unusual but pivotal role in the whole affair: He was one of Cunningham's "rabbits."
Dartmouth runners of that time had been turning in great practice times at home. (My father was a hurdler.) But when they traveled to Boston or New York for a meet, they invariably ran seconds slower and got whipped decisively by runners they should have beaten. In the mind of track coach (and Olympic hurdler) Harry Hillman, the new indoor track at Dartmouth was the fastest in the country and, quite possibly, the world. Hillman had some solid math behind his theory. The track, with its highly banked turns, measured 6.73 laps to the Mile (compared to 11 laps on a standard indoor track) and boasted two 100-yard straightaways that traveled through tunnels connecting the two wings of Alumni Gym.
The track was designed by Howard Lockwood, an engineering professor at Thayer School who knew little about track design. He drafted plans for portable duckboards, similar to those used on paths around the campus, to be laid down in the gym. College superintendent of buildings and grounds Willard Gooding, who didn't know much about tracks either, took liberties with the professor's plans and accidently built a fast track. The professor's design called for 2-foot-high banked curves, but Gooding built them 3 feet high. Then Gooding, mistakenly assuming one kind of plank was as good as another, used spruce wood rather than the less-flexible maple or oak that was more commonly used. Not only was the spruce flexible, it was laid on a cinder base that was far springier than cement, which is what most indoor tracks were built on.
Given these facts and his runners' results at home and away, Hillman figured the track was faster than most. But how to prove it? He'd invite Cunningham to set a new record in an exhibition race at Alumni Gym.
For reasons lost to history, Cunningham accepted the challenge, a terrific coup for Hillman and the College. The event was set for March 3, 1938.
When Cunningham and his coach arrived in White River Junction, Vermont, from New York City on the 4:04 train (roughly the time that Cunningham was hoping to run; his outdoor Mile record still stood at 4:06.8) a cheer went up from the large contingent of Dartmouth students waiting on the platform. Once in Hanover hundreds of locals, along with virtually every undergraduate, headed to the gym for the event. Walker Weed '40, longtime director of the wood shop at Hopkins Center and a former high school Miler, recalled the anticipation and excitement level in the gym that evening "was beyond belief."
"It is difficult to believe," said Weed, who died last spring, "but Cunningham and his coach had to ask the crowd to refrain from smoking in the gymnasium." Cunningham was appreciative. "It is the first race that I have ever run under such favorable conditions," Cunningham later told The Dartmouth. He went on to say that race promoters in Madison Square Garden and other large venues would record faster times if smoking were banned.
Meticulous attention had been paid to the integrity of the event. The three timers and one alternate were all official Amateur Athletic Union timers with more than 20 years of experience each at track meets, ski events and swimming races. The watches had all been calibrated, synchronized and triple checked in the physics lab two weeks prior to the race. The track itself had been surveyed twice to measure exactly one Mile.
Though there were seven runners on the track, Cunningham was essentially running against the clock. The six rabbits pacing Cunningham were led by Stu Whitman '38, Dartmouth's top Miler. Along with Whitman were Fred Upton '39, Robert Yeuell '39, Cliff Holmes '40, Hal Wonson '40 and MacMannis. These rabbits were given handicaps ranging from five to 600 yards. Cunningham was moved back six inches from the starting line to further ensure that he went the full distance. Upton, who died last year, vividly recalled the evening in a 2012 interview. Having previously raced in Madison Square Garden against Cunningham, Upton knew the great Miler. Cunningham recognized him and wished him good luck.
Whitman started five yards ahead of Cunningham and took him out to a blistering first quarter in a time of 58.5 seconds, a second and a half faster than planned. The crowd roared when the first split was announced. The two ran shoulder to shoulder to the half-mile mark, in a much slower time of 64 seconds, but still ahead of Cunningham's half-mile timetable. At that point Whitman dropped off and Wonson assumed the pacing duties. Wonson, who had been given the 600-yard head start, had been jogging the first two quarters. He pulled Cunningham to the three-quarter-mile mark in 61 seconds, 3:04.2. The other four Dartmouth runners had all been given 260-yard handicaps, but Cunningham exploded by them into the final quarter.
Continue reading at: dartmouthalumnimagazine.com
NOTE: Nine days later in New York City, on March 12, 1938, Glenn Cunningham broke his indoor Mile world record, clocking 4:07.4 at Madison Square Garden.