Achieving the American Dream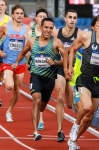 July 29, 2016
I hope that people can see me as an example of success and that it can resonate throughout their lives so that they, too, can chase their American Dream.
By Leo Manzano, 2012 Olympic 1500 silver medalist, for RunBlogRun.com
Growing up I've always felt that I didn't fit in, from the cultural differences in heritage to my size. There has always been a difference that separated me from my peers. You would think those differences would be debilitating to my morale but I've realized those differences were what gave me strength and made me into what I am today.
I came from an agricultural-farm based community where both sides of my family were farmers. In the United States, immigrants have been typically slow in transitioning due to cultural differences especially those in language. It's been particularly slower for Mexican immigrants lacking the proper education. Consequently, work and money were hard to come by for my family. I started working at age of 11 doing manual labor with family; work was necessary to make ends meet at home. I continued working well throughout my elementary to my high school years. Once in middle school, I picked up running cross country and track. Most of my youth was spent juggling between morning practice, school and work.
While my classmates all hung out after school, I had to work. It was tough knowing that my family was different and that work was the foremost important thing in life. My work ethic and willingness to put my family first can all be traced back to my father. He had always been a laborer never backing from a job no matter how hard it was or how long it took. He carried that extraordinary work ethic from Mexico to the United States and taught his children to have the same mindset. For him, nothing in life was given; it had to be earned.
Continue reading at: www.runblogrun.com