Acosta runs first sub-4-minute Mile in Spokane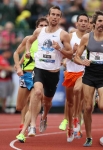 August 03, 2014
"I felt really strong with a lap to go – and had some money in the bank for when I tied up a little in the last 200."
By John Blanchette, Spokesman-Review
AJ Acosta bills himself as the "world's fastest barista," but it's not because he's breaking any records whipping up grande caramel macchiatos.
It's for how quickly he can cover a Mile on the track, though he confessed that because he hasn't "done a lot of research" and actually awarded himself the title, it's strictly unofficial.
Here's something more official: he's the first man to run a Mile in under 4 minutes in Spokane history.
The former University of Oregon All-American took advantage of a solid early pace and an encouraging audience to put the city on the sub-4 map at last with a run of 3 minutes, 58.07 seconds Saturday night at the revival of the Spokane Summer Games under the lights at Spokane Falls Community College.
For his trouble, he won a $3000 bonus on top of the $500 first prize in the Bloomsday-sponsored race – a nice windfall if not quite enough to let him call in sick the next couple of weeks.
Continue reading at: www.spokesman.com