After smashing through the 4-minute barrier, Ingebrigtsen, 16, serves notice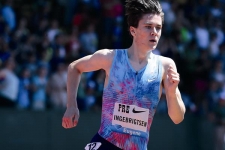 June 09, 2017
"The biggest thing I've learned from them is the mindset. You always have to go hard and believe in yourself – push until the last meters."
By IAAF
As he entered the back straight for the final time, with 45 seconds of agony between him and Mile history, 16-year-old Jakob Ingebrigtsen had one thought on his mind.
"I'm doing it now," he recalls thinking. "I stayed positive and said to myself: 'I can do it.'"
And he did.
It was Saturday afternoon at the Prefontaine Classic, a IAAF Diamond League meeting, in Eugene, and after passing 800m in 1:59 and 1200m in 2:59, the Norwegian teen phenom knew something special was on the cards. Despite running alone for the final lap, he battled to the finish in 11th place, his time of 3:58.07 a world age-16 record in the Mile.
It made him the youngest athlete ever to break 4 minutes, and the first to do so at the age of 16.
The first man to accomplish the feat, Roger Bannister, once described his body feeling like "an exploding flashbulb" when he crossed the line on that historic evening in May 1954.
"It was as if all my limbs were caught in an ever-tightening vice," Bannister said. "I existed in the most passive physical state without being quite unconscious."
Sure enough, as Ingebrigtsen was taking in the weight of his achievement on Saturday, his body began to feel the full brunt of the exertion.
Shortly after walking off the track, he reached for one of the well-placed bins at Hayward Field, then vomited for several minutes before he was able to face the media.
When he finally got the chance to reflect, delirium gave way to delight.
Continue reading at: iaaf.org