All four U.S. women qualify for Semifinal in the 1500m at IAAF World Championships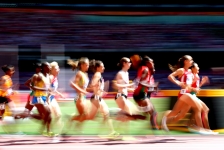 August 22, 2015
The Semifinal will be run on Sunday, August 23 at 8:45 pm local time. Live stream information available, here.
From USATF
All four U.S. women qualified for the semifinal in the 1500, two automatically and two by time. A slowish early pace kept the pack together in the first heat, with Shannon Rowbury (San Francisco, California) and Lauren Johnson (Huntington, Indiana) settling into position for the first two laps. Rowbury gradually moved up over the next circuit and was in the top three with one to go, while Johnson was in sixth. A blanket finish saw nine women finish in the space of a second and Rowbury held on to take fourth in 4:05.66. Johnson was seventh in 4:05.79 and moved on to the next round as a time qualifier.
2011 World Champion Jenny Simpson (Oviedo, Florida) was in heat two, and was safely in second over the very slow first lap. After Russia's Tomashova broke away from the pack to establish a large lead over the next 800m, Simpson was in fifth. Tomashova was reeled in over the final 200m and Simpson almost caught her, placing fifth in 4:10.79 to automatically advance.
Kerri Gallagher (Queens, New York) started out the third heat in fifth place after the first 400m and was eighth at 800m, still safely in contention. Heading into the bell Gallagher was at the back of the pack and had to make a strong move with 300m to go. She moved past three women to finish seventh in 4:06.34 and nabbed a spot in the semifinal based on time.
Continue reading at: usatf.org
Heat 1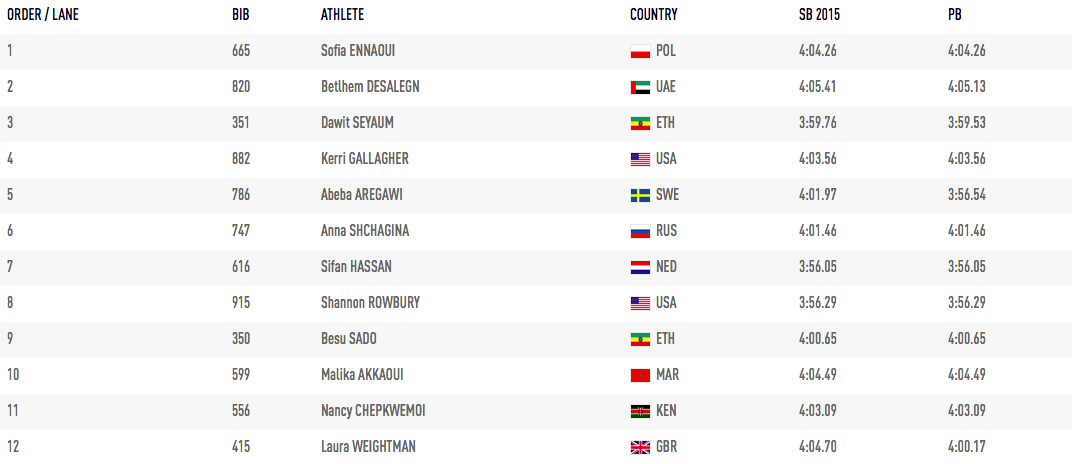 Heat 2