Amazing Mile event gets kids up & running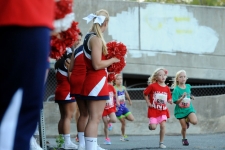 September 28, 2013
13th edition draws more than 600 children; Sophie Jantomaso, who finished in a blistering 5 minutes, 49 seconds: "It's a lot of fun!"
By Steve Hardy, The News & Advance
LYNCHBURG, Va. -- The emcee got one number of the countdown out before the horde of children took over, chanting themselves down to zero before blasting out of the starting gate, their parents scrambling behind.
More friends and family members lined Jefferson Street cheering and snapping photos as the 6 to 9-year-olds participated in one race of Friday's Amazing Mile Children's Run, an event designed to fight childhood obesity and get children to have fun while exercising.
Now in its 13th year, the event gives athletes under the age of 13 the chance to showcase their speed on the eve of the Virginia 10 Miler.
At least 625 children came out Friday evening. Those under five ran a quarter mile untimed race with their parents in tow, urging them on.
Continue reading at: www.newsadvance.com