American Ace Pifer Among the Best in Strong Elite Field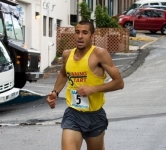 January 16, 2013
By Scott Neil, The Royal Gazette
A competitive field of overseas runners, including sub-four minute Milers, are set to make this Friday's 25th KMPG Invitational Elite Men's Mile a thriller when they come up against three of Bermuda's best middle-distance specialists.
American Stephen Pifer, 29, could be the man to beat and he is no stranger to Bermuda having won the 2007 Athletic Club 5K race during a brief visit to the Island.
The Illinois-born runner was a big name in the Colorado running scene for many years and has a Mile best of 3:56.12, which he ran in Oregon in 2010.
Continue reading at: royalgazette.com