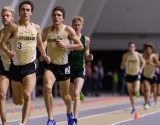 February 08, 2017
"Once people around the nation see these (Mile) times in the morning, my phone is going to be ringing off the hook with people wanting to come race here."
By Mike Sandrock, The Daily Camera
3:55, 3:56, 3:57...
The clock at the end of the Sklar Family Track's south straightaway on the...
Read More
comments