Anatomy of Alaska's First Sub-4 Minute Mile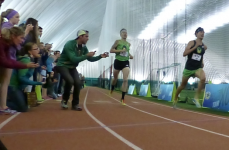 March 24, 2014
"Everyone just erupted when they saw the clock. It was really the atmosphere that made the hair on your neck stand up. The anticipation and suspense throughout just added to the excitement."
By Run the Loop
The sub-4 minute Mile is no longer the stuff of legends for professional track and field; ever since the great British Miler Roger Bannister ran the first sub-4 minute Mile in 1954, the feat has been repeated by athletes of all nationalities over and over (1,300-plus men at last count including 417 Americans). The mark is still a major goal for most male Milers, but not as intimidating or unreachable as it once was.
The vast majority of states in the U.S. have seen a sub-4 minute Mile run on its turf… except Alaska.
What makes this somewhat foreign terrain so unbeatable? Why has no one—including Milers who've completed several sub-4 minute Miles in their career—been able to accomplish this task? Attempts have been made, Mile races have been hyped, and yet, until the fall of 2013, no one had officially ran under 4 minutes for a Mile… until Team NB's Jack Bolas made his way to Alaska, The Last Frontier.
Continue reading at: www.runtheloop.com