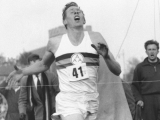 May 30, 2017
The stagnation was attributed to the war and the breakthrough was a return to sport along the modernization of training.
By The Science of Running
The story goes that Roger Bannister crushed the 4 minute Mile mark, and allowed runners to dream of the impossible. No longer held back by this...
Read More
comments