Ostler Runs in Sir Roger's Footsteps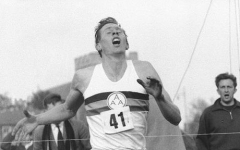 August 08, 2012
By Scott Ostler, San Francisco Chronicle
OXFORD, England -- The rain begins falling just as I arrive at the Iffley Road Athletics Track at Oxford University, where Roger Bannister broke the 4-minute Mile barrier.
Perfect.
This is the same weather, breezy and drippy, that Bannister encountered in 1954 when he arrived for his run.
He considered postponing his quest but decided to go for it. So if I'm going to run with Bannister's ghost, I can't wimp out.
Continue reading at: sfgate.com