America's Sub-4:00 Fraternity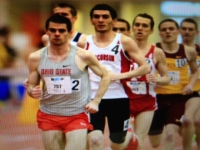 April 02, 2013
The quest to "break four" still inspires
By Dave Hunter, RunBlogRun
David Hunter is on a roll. This piece on Chris Fallon of Ohio State, and the pursuit of the four minute Mile, is a fun read. The four minute Mile has become a litmus test to the growing strength of American distance running. Running four laps in 60 seconds a piece has been done by just over 396 Americans in the past fifty years. Sometime this spring, we will hit 400 Americans who have broke four minutes for the Mile!
The 4:00 Mile -- there is something so perfect about that distance, that time, and that goal. 4 laps in 4 minutes, averaging less than 60 seconds for each lap. No other achievement is so well known, so perfectly crafted to inspire, and still so exclusive after more than 50 years since Roger Bannister made the inaugural break though on the Iffley Road track in Oxford on May 6th, 1954.
Other sports may claim to have pinnacle goals equal to the majesty of the 4:00 Mile. But they would be wrong. Golf's hole in one? Too much magical luck involved. Bowling's 300 game? Too easily achieved. Basketball's triple double, baseball's .300 batting average or 20 win season, hockey's hat trick - all are events to be celebrated, to be sure. But none can really compare to the dedication, the solitary achievement, and the grandeur that accompany breaking four minutes in the Mile.
Continue reading at: runblogrun.com