Sir Roger Bannister missed out in Helsinki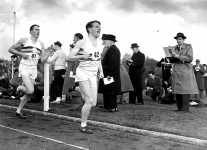 July 18, 2012
Bikash Mohapatra digs out some of the biggest names in sport who failed to leave a mark on the Olympics.
By rediff.com
The Olympics is a great leveler.
While on the one hand we witness athletes rising from relative anonymity to create history, on the other there are eminent athletes who fail to rise to the occasion. As such, Olympics glory remains the lone elusive factor in their otherwise illustrious careers.
From Ron Clarke to Gunder Haag to Jim Peters to Khalid Khannouchi, Olympics history is replete with examples of athletes who faltered on the biggest stage and failed to add a Games title to their glittering resume.
Rediff.com takes a look at a few known names who failed to win the gold medal at the premier sporting extravaganza.
It is a fact that Sir Roger Bannister was the first man to break the four-minute barrier in the Mile.
However, little known is the fact that the legendary British athlete failed at the Olympics.
Continue reading at: rediff.com