Roger's four minutes to immortality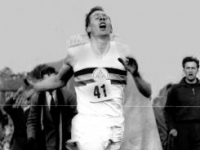 May 08, 2012
"There was no logic in my mind that if you can run a Mile in 4 minutes, 1 and 2/5ths, you can't run it in 3:59. I knew enough medicine and physiology to know it wasn't a physical barrier, but I think it had become a psychological barrier."
By Stephen Wilson, Irish Examiner
OXFORD - Roger Bannister remembers those fabled four minutes as if they were yesterday.
Like a proud patriarch regaling wide-eyed children, the 83-year-old avidly recounts that magical four-lap race on a cinder track in Oxford on May 6, 1954 — an event that still stands as a transcendent moment in sports.
3 minutes, 59.4 seconds.
"It's amazing," says Bannister, expressive as ever, "that more people have climbed Mount Everest than have broken the 4 minute Mile."
The enduring black-and-white images of Bannister, eyes closed, mouth agape, straining across the finish line at the Iffley Road track, symbolise the supreme test of speed and endurance that captured the public's imagination. It made him a global celebrity as the first man to run the Mile in under 4 minutes — the mythical barrier that some thought was beyond human reach.
With London hosting the Olympics this summer, the Oxford-educated neurologist knighted Sir Roger in 1975 finds himself in the spotlight again, the embodiment of sporting achievement in Britain.
While Bannister never won an Olympic medal, having finished fourth in the 1500 meters at the 1952 Helsinki Games, he still represents a strong link to the Olympic ideals of faster, higher, stronger.
And that has led to speculation that now, after a distinguished 40-year medical career, Bannister could still capture his Olympic moment by lighting the flame to open the London Games.
"I think it should be somebody representing youth," he says, coyly deflecting questions about whether he might have a starring role at the July 27 opening ceremony. "Can't answer."
The epitome of the English gentleman, Bannister welcomes a visitor to his modest Oxford flat with a warm smile, firm handshake and a cheery, "I see that you are punctual."
He still lives only minutes away from the track where he made history.
His wife Moyra, a keen artist, proudly points out her framed paintings on the wall and photographs of her husband meeting a young Queen Elizabeth II, Winston Churchill and other dignitaries. Pictures of their four children and 14 grandchildren also line the hallway and the bright reception room.
Bannister's 6ft2 frame is still sturdy, his silver-white hair neatly combed, his blue eyes shining, voice strong and resonant, his words colourful and precise.
Wearing a blue blazer, grey trousers and pink shirt and tie, he looks every bit the master of Oxford's Pembroke College, which he once was.
Bannister jots down a few notes on a yellow legal pad before he settles into a swivel chair and talks animatedly for more than hour about his life and career.
Occasionally, his wife, seated at the back of the room, reminds him to talk about his work as a neurologist. "He's so darned modest," she says.
In 1945, with Britain recovering after World War II, Bannister's father took his teenage son to a track meet at London's White City Stadium, which was built to host the 1908 Olympics. They were there to watch British middle-distance star Sydney Wooderson, who had emerged as a rival to the trio of Swedish runners who had taken the mile world record down close to the 4 minute mark.
"He came up to Arne Andersson's shoulder and it was inspiring to see him challenge this tall Swede," Bannister said. "The Swede managed to shake him off and win.
"So I made up my mind then when I got to university, got to Oxford, I would take up running seriously."
With the 1948 London Games approaching, Bannister established himself as a promising young talent, running mile times of around 4:10. The 19-year-old was selected as a "possible" for the British Olympic team, but decided it was too soon.
"I thought I wasn't ready," Bannister said. "At that stage, it was thought that if you indulged in too much racing when you were too young, that you could burn yourself out. ... I decided I would wait for the '52 Olympics."
Continue reading at: irishexaminer.com
Full race video with Bannister commentary