An Exclusive Club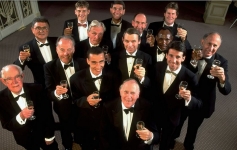 June 27, 1994
Forty years after Roger Bannister broke four minutes, the brotherhood of Mile record holders gathered to honor their grand obsession
By Gary Smith, Sports Illustrated
NEVER JOIN SOMEONE WHO ECLIPSES YOU. ALIGN YOURSELF WITH ONE WHO INCREASES YOUR LUSTER. THE MAN WHO PUTS YOU IN THE SHADE BECAUSE HE IS EITHER MORE VIRTUOUS OR VICIOUS GAINS THE GREATER RECOGNITION. HE PLAYS THE MAIN ROLE, AND YOU ARE RELEGATED TO SUPPORT HIM.
—BALTASAR GRACI, A 17th-CENTURY JESUIT PHILOSOPHER
Suppose you had spent the best years of your life gasping for oxygen. Suppose you had awakened each Sunday morning knowing you must run 23 miles to feel clean, then lie on a table and hope someone could rub away the pain. Suppose you had spent nights brooding over 10ths of seconds, a decade of life under the tyranny of a clock, and finally you had what you ached for. "You're the king of the world," as one who did this said. "The fastest Miler in the world." And then, a few years later—or perhaps only a few months or weeks—it was gone. Someone else was faster. Someone else was king.
Suppose that one day long after this fever had passed, one day when your hair was gray and your face was a fine web of wrinkles, you opened the mail and found an invitation. Someone wanted you to get on an airplane, fly 15 hours, or 28, in order to stand in the shade of the ones who had surpassed your sacrifice, eclipsed your glory. No appearance fee. Would you do it? What for?
"To be the world record holder in the Mile," said Herb Elliott, the 56-year-old Australian who was just that from 1958 until '62, "a man must have the arrogance it takes to believe he can run faster than anyone ever has at that distance... and the humility it takes to actually do it."
What becomes of all that arrogance and humility? One by one, on the 40th anniversary of the most famous Mile ever run, the record holders arrived at the Grosvenor House Hotel in London on May 4. Shaking hands, smiling shyly, they stepped into each other's shade.
Continue reading at: sportsillustrated.com