The very modest hero who raced into history on pilchard power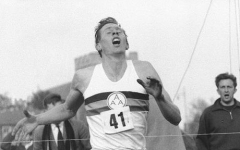 June 12, 2012
As he prepares to carry the Olympic Torch, an enchanting interview with 4-minute Mile legend Roger Bannister
By Jane Fryer, Daily Mail
OXFORD - Sir Roger Bannister is sitting straight-backed and immaculate in his favourite 'very hard' chair.
He's chatting about Olympic gold medals, the honour of being asked to carry the Olympic Torch around Oxford's Iffley Road running track next month, and the frustration of being known for his running rather than his myriad medical achievements.
As well as the hot-necked awfulness of arriving late for a meeting with Prince Philip at Buckingham Palace — and pilchards.
Pilchards on toast, to be precise, which he used to wolf down in the canteen as a young man at Paddington General Hospital between quick runs round Regent's Park and medical lectures.
Continue reading at: dailymail.co.uk