The 4 minute Mile is 60 years old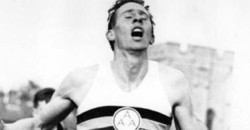 April 30, 2014
Roger Bannister made an indelible mark on the sport and the world on May 6, 1954
By Pat Murphy, TroyMedia.com
TORONTO, Canada – If you were around in 1954, you couldn't escape the 4 minute Mile. The newspapers were full of it, and the coverage wasn't confined to the sports pages. Running a Mile in under 4 minutes was something nobody had ever done before, and there were even those who doubted whether the human body was up to the challenge.
Until then, the fastest recorded Mile had been by Sweden's Gunder Hägg in the summer of 1945. But Hägg's time was a second and a half away from breaking the "magic" 4 minute barrier, and nobody had been able to shift it downwards in the ensuing nine years.
Still, as 1954 dawned, the smart money had it that there were three serious contenders – England's Roger Bannister, Australia's John Landy and America's Wes Santee. Ultimately, though, it came down to a duel between Bannister and Landy.
Born in 1929, Bannister was an Oxford man and a final-year medical student. Landy, a year younger, was a freshly minted agricultural science graduate from Melbourne. Both men were amateurs.
Continue reading at: www.troymedia.com