(Sir) Roger and Me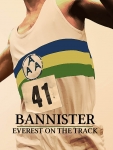 July 30, 2016
"As I have said, winning Olympic races is more important than the 4 minute Mile. It so happens that the rest of the world thinks otherwise." - Sir Roger Bannister
By Pat Butcher, GlobeRunner.com
Oh dear! I watched Everest on the Track, the documentary of Roger Bannister and the 4 minute Mile on BBC4 the other night with mounting interest, thinking that here we finally have a piece about sport, putting it into a political and historical context – with its preamble about World War II and its potential for the collapse of civilization as we knew it – that is going to give some real insight into the role of sport in society as a determinant of values and a bedrock of social significance when it, ie sport has often been decried as being bereft of both.
But then it all went wrong. I'm not going to rehearse the arguments here, but I'll append some past articles at the bottom, in which I expatiate on the questionable circumstances which led to the first sub-4 minute Mile, because that is something that this documentary signally failed to do. There is not a single word of dissent, and there should have been, for it to have been a properly critical piece of work in the rounded sense.
'Everest' is a thoroughly professional documentary – well-shot and edited, with high production values, tailored for U.S. television, with its natural breaks and imposing intertitles every few minutes; and there is some excellent testimony from an impressive list of commentators beginning, believe it or not, with mygoodself contributing, as my former lady texted me to say, 'your Hitchcock moment'.
Continue reading at: www.globerunner.org