Roger Bannister (1929-2018)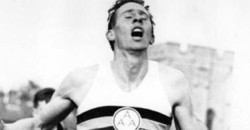 March 03, 2018
But for most, the image of Bannister will forever be the long-limbed athlete, with his head thrown back, breaking the tape on a blustery May evening in 1954.
From the BBC
Roger Bannister, who has died at the age of 88, was the first man to run a Mile in under 4 minutes.
Sir Roger, who was knighted in 1975, had been suffering from Parkinson's disease since 2011.
The record time in Oxford established him as one of the great names of British athletics.
In an age of the gentleman amateur, Bannister saw his running as something to be done in his spare time.
He once wrote that the ideal athlete was one who enjoyed a few drinks and even the odd cigarette.
Roger Gilbert Bannister was born on March 23, 1929 in Harrow, Middlesex.
After leaving University College School in London, he went to Oxford to read medicine before going on to St. Mary's Medical College.
Bannister used his medical knowledge to devise his own training regime and investigate the mechanical aspects of running.
He had taken up athletics while at Oxford but his studies meant he could snatch only about 30 minutes a day to practise his technique on the track.
Unlike the lucrative profession it has become today, athletics was always only one aspect of Bannister's student life.
"As soon as I ceased to be a student," he said, "I always knew I would stop being an athlete."
Nevertheless, after just three sessions, he was running a Mile in 4:24, which was enough to see him considered as a possible for the 1948 Olympics in London.
Continue reading at: bbc.com