Group seeks higher profile for the Mile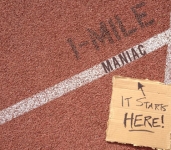 February 15, 2012
"Here's a mark that transcends sports. It's something that's so embedded in our culture and other cultures that it's often referenced outside the sport."
By Eddie Pells, AP National Writer
It's the race that cemented Roger Bannister's name into history and the distance that everyday runners use to gauge their progress and pace.
Yet, over the years, the Mile has been cut out of most mainstream track meets, replaced by metric numbers that don't have nearly the same meaning, at least to Americans.
A grass-roots group of runners led by Ryan Lamppa, who once ran the Mile in 4:11, want to change that. The group called Bring Back the Mile has sprouted on the Internet and elsewhere. Their goal: To make the Mile the standard for middle-distance running and, while they're at it, maybe bring some passion back to a portion of their sport that has lost some of its pizazz over the years.
"It's a distance people get," Lamppa said. "We can tell from the people who sign up with us. People are passionate about the Mile. It really does have prominence in our culture. Not only on signs and odometers, but there's something about the Mile that's very different from any other track event."
Bannister knew that. After finishing a disappointing fourth in the 1500 meters at the 1952 Olympics -- where metric measurements have always been in place -- the Englishman looked for another mountain to climb. He set out to become the first person to break the 4-minute barrier in the Mile. In 1954, he accomplished his goal during a meet at the Iffley Road Track in Oxford.
Continue reading at: espn.com