'Race of the century' between Landy & Bannister still a miracle 60 years later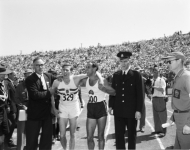 July 27, 2014
"I was going to run from the front, I was going to break the 4 minute Mile, and I was going to break my world record." - John Landy
By Kym Morgan, The Advertiser
The 1954 British Empire Games Mile race between Australia's John Landy and England's Roger Bannister in Vancouver, Canada, was so eagerly anticipated the world's press gave it an array of names: THE Race of the Century, The Miracle Mile.
Even in the U.S., where sport not involving Americans generally didn't create any interest, more than 10 million prepared to watch the showdown on a new form media called television.
Everywhere else they tuned in the wireless, including Australia where more than one million people listened to live commentary.
Almost 60 years to the day since the race, Landy has clear memories of the build-up to one of the most anticipated sporting events of the 20th century.
"The race really was a promoters dream,'' he says of the clash between the only two men in history at that time to have broken the 4 minute Mile.
"The 4 minute Mile was something that even people who weren't interested in athletics could understand and this fascination had built up.
"It was four even laps of an athletics track in under 4 minutes, under 60 seconds per lap."
The build-up to the Miracle Mile started 11 years earlier.
Continue reading at: www.perthnow.com.au