The day Sir Roger Bannister reclaimed the 4 minute Mile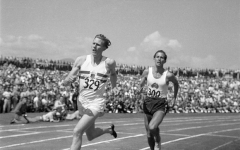 June 08, 2015
46 days after Sir Roger Bannister broke the 4 minute Mile, his world record fell to John Landy. Here the athlete reflects on the day he won back his title.
By Roger Bannister, The Telegraph
This photograph captures the moment I overtook the Australian runner John Landy on the final bend at the Vancouver Empire Games in 1954 [a race later dubbed the 'Miracle Mile']. The photographer deserved a medal for capturing the shot, which appeared in the first issue of Sports Illustrated that month.
The build-up to this event had been incredible. Although I had been the first to break the 4 minute Mile in Oxford on May 6 that year, Landy quickly followed, setting a new world record of 3 minutes and 58 seconds. Now all eyes were directed towards the Empire Games, as they were then called, where Landy and I would run head-to-head for the first time.
The day of the final, Saturday, August 7, was also the last day of the Games, and the atmosphere in the stadium was electric. When the gun fired, Landy quickly took the lead, and at half a Mile he was 12 yards ahead. I had hoped he would set the pace because I was confident I had a stronger finish and could overtake him when he began to tire. But as he maintained his pace and the gap widened, my confidence began to waver and I worried he might break the world record again by an even greater margin.
Continue reading at: telegraph.co.uk