Actors walk in Sir Roger Bannister's footsteps to explore the power of the four-minute Mile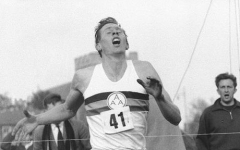 May 06, 2012
By Paul Kelso, The Telegraph
OXFORD - This weekend sees the anniversary of perhaps the most famous landmark in sport. On Sunday it will be 58 years to the day since Sir Roger Bannister ran the first sub-four-minute Mile, a feat that still resonates around the sporting world.

To mark the occasion the Oxford Playhouse has commissioned a unique theatrical tribute Bannister's achievement, a play that takes audiences literally in the footsteps of greatness, albeit at a more sedate pace.

In The Story of the Four Minute Mile, the audience lap the Sir Roger Bannister Running Track at Iffley Road, Oxford, four times, walking a Mile while actors recreate elements of the race and explore its impact and import. Afterwards, if they choose, they can try running, and see how far they get in 3 minutes 59.4 seconds.

It is an attempt to capture and explain the power of Bannister's triumph over what Jake Oldershaw, who devised and directed the play, calls an "invisible barrier".
Continue reading at telegraph.co.uk