Bring Back the Mile!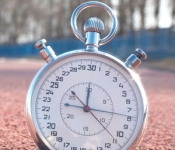 February 27, 2013
Runners find renewed appreciation for the iconic distance.
By Mackenzie Lobby, Innovation for Endurance
Not many sports have it: It's what Ryan Lamppa calls the "Roger Bannister moment." Bannister was the first person to break the 4:00-minute Mile on May 6, 1954 on Oxford's Iffley Road Track, finishing in 3:59.4. It was that moment, after decades of debate about whether it was humanly possible to cover 5,280 feet in under 4:00 minutes, that made Bannister an icon in the annals of sporting history.
While many others have since broken 4:00-minutes, Bannister's name is the one evoked by people who know little else about running. Indeed, when Forbes Magazine looked at the greatest individual athletic achievements of all time, a panel of experts from all corners of sports voted Bannister's sub 4:00-minute Mile to be the most significant.
Continue reading at: innovationforendurance.com