Andrew J. Walsh has won 181 prizes in 10 years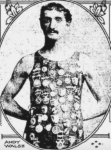 January 26, 1902
Veteran athlete of Xavier AA holds indoor Mile world record amongst high honors
From The Brooklyn Daily Eagle
The record attained by Andrew J. Walsh, the veteran athlete of the Xavier AA, since his debut on the cinder path, nearly ten years ago, is remarkable. This sterling athlete, in his long career, has won 181 prizes, of which 116 were for first, 50 for second and 15 for third.
Walsh is the holder of the world's record for the indoor Mile run, made at the 13th Regiment Armory Games on November 30, 1895, when he covered the distance in the great time of 4 minutes and 26 seconds.
Impressively, Walsh has been a competitor annually for the last ten years in the Mile metropolitan championship run and he has gotten a place in every race, finishing first in 1892 and 1897, second in 1893-95, 1898-99, and third in 1896 and 1900. The fact that Walsh still has in his possession the 181 prizes which he has won shows his great love for pure amateur sport, and it is doubtful if many more of the metropolitan stars can say the same thing. The majority of his prizes were won in handicap events, although his collection includes a number of die medals, bearing the championship emblem.
Walsh was born in Ireland in 1869 and came to this country when a young man of 20 years. Two years after his arrival here he began his athletic career and, after winning a number of minor events, he won the Mile metropolitan championship, defeating such famous athletes as TP Conneff, AB George, EW Hjertberg, GG Hollander, FB Winslow, WW McCarthy and J Reade, all of whom had won some championship previous to this event.
When he won the same event in 1897, Walsh defeated George Orton and Johnny Cregan, who was twice crowned intercollegiate champion.
Other champions who are numbered among Walsh's victims are Willie Day, whose record for 10 miles, made eight years ago, still remains undisturbed; Ernie Hjertberg, the steeplechase champion; Charles Kilpatrick, who made the present figures for the half-mile run; GG Hollander, GO Jarvis, Morgan of Yale, W Allison of Worcester and C Bean of Boston.