Anna Willard Returns to Racing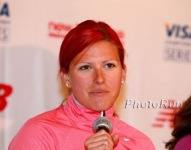 December 29, 2014
2008 Oympian, now training in Boston, talks about her struggles of the past two years.
By Peter Gambaccini for Running Times
Anna Willard once held the U.S, steeplechase record, ranked #2 in the world for 800m and ran 3:59.38 for 1500m. Her name hasn't been seen much in race results since 2012, however. Now, she has returned from England, is single again and is training in Boston. She plans a full indoor track season in 2015, beginning with an 800 meters at Boston University on Jan. 3.
Willard is gregarious and laughs easily. She's from a small town in Maine, was an Ivy League standout at Brown and, in her final year of eligibility, became an NCAA and U.S. champion while at the University of Michigan. She traded the U.S. steeplechase record and national titles back and forth with Jenny Barringer, now Simpson, until both women, Olympic finalists in 2008, abandoned the barriers and water pit after 2009.
That year, Willard found herself winning Grand Prix 800s and ranking second in the world at a distance no one thought of as her specialty. She also was sixth in the 1500m at the 2009 World Championships in Berlin, and fourth in the 800m at the 2010 World Indoor Championships.
A couple of seasons slightly below that level followed, and Willard missed the 2012 Olympic team after finishing fifth in the 1500m at the Trials. Since then, she has raced very sparingly and never at full strength, and she went through a divorce from steeplechaser Jon Pierce.
In Boston, she's still with longtime coach Terrence Mahon—whom she followed to England when he took a job with UK Athletics—and with her steadfast pal and training partner Morgan Uceny. Willard is optimistic that 2015 will be different from 2013 and 2014.
Continue reading at: www.runningtimes.com