At 37, Bernard Lagat is still in pursuit of Olympic gold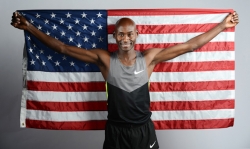 June 02, 2012
Lagat, who took a bronze medal at the 2000 Olympics and silver at the 2004 Games running the 1,500 meters, faltered at the 2008 Games. Now he's among the favorites in the 5,000 meters at London.
By David Wharton, Los Angeles Times
Time means everything to a runner.
Every step equals another second ticking away, every race another chance to beat the clock.
And every season can rob a bit more spring from the legs.
Bernard Lagat understands all of this. Still, at the relatively advanced age of 37, the veteran distance runner shows a wry smile when asked if it's time to quit.
Continue reading at: latimes.com