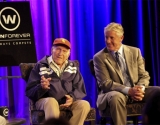 June 18, 2012
Event draws 95-year-old former USC athlete whose book about his odyssey during World War II is a bestseller. His stories at a fundraiser include jabs at the former Trojans football coach.
By TJ Simers, Los Angeles Times
Pete Carroll is back in town and onstage. He's sitting beside Lou...
Read More
comments