Lou Zamperini dishes it out, even at Pete Carroll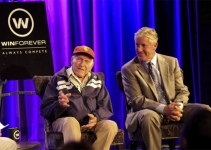 June 18, 2012
Event draws 95-year-old former USC athlete whose book about his odyssey during World War II is a bestseller. His stories at a fundraiser include jabs at the former Trojans football coach.
By TJ Simers, Los Angeles Times
Pete Carroll is back in town and onstage. He's sitting beside Lou Zamperini. They are here in the Clive Davis Theater in the Grammy Museum at L.A. Live.
It's a "Winforever" event, Pete Carroll's approach to achieving success, which probably should be called "Winoccasionally" since he moved to Seattle.
Uncle Pete is not amused, and right away it's like old times.
Zamperini is 95, a former USC student and inspirational speaker now. He's telling everyone what it was like to be stranded on a raft in the Pacific Ocean for 47 days during World War II, no drinking water after a while, wrestling sharks and eating a four-footer's liver to remain alive.
Continue reading at: latimes.com