U.S. runner trains in the mountains with a podium climb in mind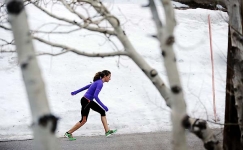 March 24, 2012
Morgan Uceny is a favorite for the 1,500 meters heading into June's Olympic track and field trials. Her first priority is medaling at the London Games: 'I want to be on the podium.'
By Kevin Baxter, Los Angeles Times
Reporting from Mammoth Lakes -- It's been more than two years since Morgan Uceny's first visit to the high altitude of Mammoth Lakes. But that impression still lingers.
"Just walking up the stairs was really tiring," remembers Uceny, who immediately began questioning her fitness and her sanity.
But she stuck it out and was rewarded last summer with one of the best seasons by a U.S. middle-distance runner in nearly three decades, setting lifetime bests of 4:00.06 at 1,500 meters — best in the world in 2011 and making her the sixth-fastest American of all-time — and 1:58.37 at 800 meters.
That stamps her as one of the favorites heading into June's Olympic track and field trials...
Read more at www.latimes.com