Blankenship Repeats, Lipari Wins Medtronic TC 1 Mile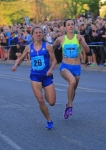 May 11, 2017
At 12th edition, more than 2,000 run in downtown Minneapolis; second stop on the BBTM Grand Prix #Tour2017
From Twin Cities In Motion
MINNEAPOLIS, Minn. – Stillwater native Ben Blankenship and Emily Lipari of Brighton, Mass. won the professional races at the 12th running of the Medtronic TC 1 Mile Thursday evening.
Blankenship, 28, a 2016 Olympian who finished 9th in the Rio 1500 meter final, earned a runaway repeat win in 4:01.0, despite slowing down to celebrate his second straight Medtronic TC 1 Mile title in the finishing stretch. Last year, Blankenship set the event record at 3:55.8.
Daniel Herrera of Portland, Ore. finished runner-up in 4:06.2, followed by Chad Noelle of Greenville, S.C. in third at 4:06.4. Former event record holder Nick Willis, the two-time Olympic 1500m medalist from New Zealand, finished 10th in 4:11.6.
"Anytime I come back home, I really want to dominate, that's my only concern," Blankenship said. "It's really how big a margin can I win by and how can I conduct that. We played a little cat-and-mouse at the beginning – Nick Willis and I go way back – so we know a little bit about each other, and I know I don't want to be in the last 10 meters shoulder-to-shoulder with him."
In the women's race at the finish line, Lipari, 24, edged Sara Vaughn of Boulder, Colo. to earn victory in her first Medtronic TC 1 Mile appearance. Lipari clocked 4:34.8; Vaughn finished in 4:34.9. Becca Addison of Ann Arbor, Mich. took third in 4:40.2.
"Unfortunately it wasn't the record type of day," the former Villanova star said, alluding to night's breezy conditions. "I'm happy to come off with a win and be really competitive, and use this race to propel me into the track season."
More than 2,000 runners participated in the event which raced around Gold Medal Park and finished under the Guthrie Theater's Endless Bridge in downtown Minneapolis.
Blankenship and Lipari won $5000 each for their wins. The race was also the second stop on the Bring Back the Mile Grand Prix Tour 2017, featuring more than $110,000 in total prize money and a $10,000 grand prize purse. The next Tour 2017 stop is at the GNC Live Well Liberty Mile in Pittsburgh on Friday, July 28.
12th Medtronic TC 1 Mile
BBTM Grand Prix Tour 2017 second stop
Minneapolis, MN, Thursday evening, May 11, 2017
MEN
1) Ben Blankenship (OR), 4:01.0, $5000
2) Daniel Herrera (OR), 4:06.2, $3000
3) Chad Noelle (SC), 4:06.4, $1800
4) Travis Burkstrand (WA), 4:06.9, $1000
5) Bryce Basting (WA), 4:08.3, $600
6) Elisha Kiproto (KEN), 4:09.2, $400
7) Paul Escher (MN), 4:09.5, $250
8) Alex Monroe (CO), 4:10.7, $200
9) Kevin Lewis (MN), 4:11.4, $150
10) Nick Willis (NZL), 4:11.6, $100
WOMEN
1) Emily Lipari (MA), 4:34.8, $5000
2) Sara Vaughn (CO), 4:34.9, $3000
3) Becca Addison (MI), 4:40.2, $1800
4) Eleanor Fulton (OR), 4:40.7, $1000
5) Kristen Findley (CA), 4:43.4, $600
6) Gabriele Grunewald (MN), 4:44.8, $400
7) Ayla Granados (CA), 4:46.9, $250
8) Jamie Cheever (MN), 4:48.7, $200
9) Christy Cazzola (GA), 4:52.6, $150
10) Meghan Peyton (MN), 5:00.8, $100
Complete results can be found at: tcmevents.org