BMC to celebrate 50th anniversary at Iffley Road with classic Mile races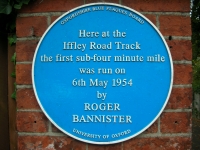 July 18, 2013
Meet at site where Roger Bannister, in 1954, became the first man to break the 4 minute Mile barrier
By Athletics Weekly
There is little room for nostalgia in sport but the British Milers' Club will turn back the clock when they celebrate their 50th anniversary in Oxford on Saturday, July 20.
The club, which was founded by the late Frank Horwill to revitalise standards in British middle distance running, returns to Iffley Road for the fourth Grand Prix meeting of the 2013 series.
If anywhere has the right to be called the spiritual home of middle distance running then it is Iffley Road, the venue where Sir Roger Bannister became the first man to break four minutes for the Mile on May 6, 1954.
For that reason the BMC has decided to drop the usual 1500m from the timetable and replace it with the classic Mile and give British athletes the chance to put down a PB.
"It was entirely fitting that the BMC return to Iffley Road to mark its 50th anniversary," said BMC chairman Tim Brennan.
"It also gave us an opportunity to offer British runners the chance to run the Mile rather than the 1500m and enjoy some great racing.
"We think it is a meeting that should help preserve the memory of that historical moment when sir Roger Bannister broke the four-minute Mile for the first time, which was arguably one of the greatest moments in sport in the 20th century."
Horwill would certainly have approved of the meeting's format and in tribute to him and another legendary British coach, Peter Coe, two Mile races for young athletes will be held in their honor.
"We are commemorating the work of two great coaches and I am sure Frank will be smiling down on us," added Brennan.
After the meeting the BMC will be hosting a social function to wrap up what they hope will be a memorable day.