Brave Like Gabe Foundation honored with 2019 Toyota Humanitarian Award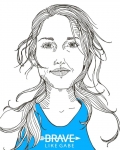 December 10, 2019
Toyota will donate $10,000 to Gabriele Grunewald's rare cancer research foundation
From USATF
RENO – The late Gabriele "Gabe" Grunewald, a cancer research advocate and 2014 USATF Indoor 3000m champion who passed away in June at age 32 following a decade-long battle with cancer, was honored for her Brave Like Gabe Foundation with the 2019 Toyota Humanitarian Award at the USATF Night of Legends.

Grunewald's parents – Kim & Laura Anderson – accepted the award on her behalf at the 2019 USATF Night of Legends on Saturday, December 7 in Reno, Nevada.

"Gabe would want you all to live in the moment, to have hope," said her mother Laura Anderson.

The Toyota Humanitarian Award is presented to a USATF athlete with an outstanding record of community involvement. As part of the award, Toyota will donate $10,000 to the awardee's charity of choice.

Grunewald was inspired to establish Brave Like Gabe in 2018 as a result of her personal medical history. She experienced recurrences of the rare salivary gland cancer, adenoid cystic carcinoma, and credited physical activity with helping her cope.

"Gabe Grunewald's efforts to help others in the face of devastating personal struggles created a lasting legacy that Toyota Motor North America is honored to support," said Dedra DeLilli, Group Manager, Olympic / Paralympic Marketing, Toyota Motor North America. "The Brave Like Gabe Foundation's pillars of encouraging movement and raising funds for cancer research echo our own commitment to providing everyone the freedom to move – no matter their ability or circumstance."

Sharing her experiences, both good and bad, through social media and public speaking made her an inspiration to many in and outside the track & field community. In 2017, she supported USATF's partnership with American Cancer Society to raise awareness and funds for cancer research, coinciding with her final appearance at the 2017 USATF Outdoor Championships. Most recently, she partnered with Chip Gaines' Silo Marathon to raise more than $300,000 for cancer research.

Her legacy lives on through her foundation and many others. For more information on Gabe Grunewald and how you can support Brave Like Gabe, go to: bravelikegabe.org

The Night of Legends banquet also included crowning Dalilah Muhammad and Donavan Brazier as Athletes of the Year, the National Track & Field Hall of Fame induction ceremony, Youth and Masters Athletes of the Year, as well as Nike Coach of the Year and Wing Awards.